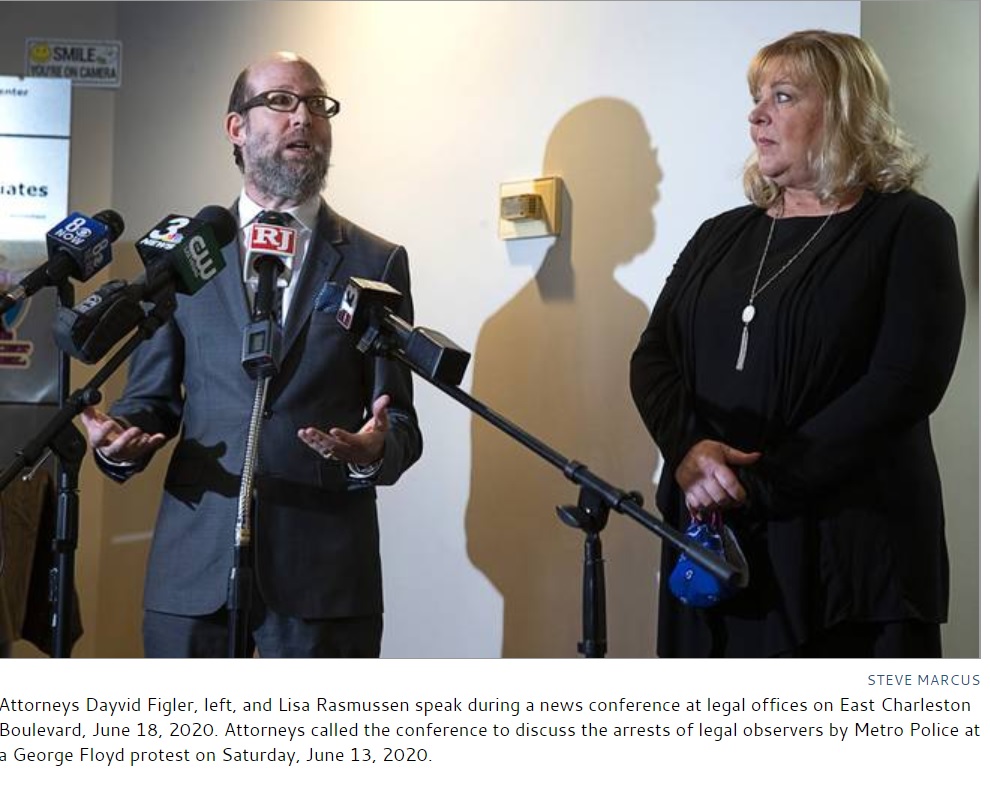 Legal observers at Las Vegas protest challenge Lombardo's account of their arrests
By Ricardo Torres-Cortez (contact)
Thursday, June 18, 2020 | 9 p.m.
Peaceful protesters marching down the Las Vegas Strip on Saturday were about 100 yards from their final destination at the Welcome to Las Vegas sign when Metro Police blocked their path and dispersed the protest.
Officers then funneled, boxed-in and arrested demonstrators, allege attorneys for legal observers who also ended up detained in the chaotic scene.
In a video released Thursday by the attorneys, those marching are shown being led westbound on Russell Road from the Strip and appearing to be confused as to where they should disperse. At least one marcher is shown saying police were "blocking us in."
When armored Metro vehicles come into video, demonstrators are shown running in a panic when they hear what sounded like gunfire. Rather, it was noise made from less-lethal riot rounds, said video narrator John Piro, an attorney who was a legal observer at the rally.
The video also shows officers making arrests. A woman in the video is heard asking if she could cross the street to no avail. A female legal observer is seen being snatched and cuffed by officers.
Attorneys Lisa Rasmussen and Dayvid Figler said that seven of the 15 legal observers at the protest — all wearing red T-shirts clearly identifying them as such — were detained and cited. One was booked and released at the Clark County Detention Center.
All were taken into custody while on a sidewalk, the attorneys said. Rasmussen described the police presence as militaristic and outsized for a peaceful protest.
Clark County Sheriff Joe Lombardo said Tuesday that several legal observers had participated in the protest and that at least two observers had antagonized and obstructed officers.
The legal observers deny the allegations, noting video released Thursday by their attorneys and earlier in the week by Metro shows them doing their job. Neither of them touched any officers or broke any laws, Piro said.
While Lombardo said that one of the protesters was seen approaching a Metro cruiser, seemingly leading a group of "aggressive protesters," the attorneys said the observer was simply trying to get more information to document the march, such as the names of demonstrators who were arrested and the arresting officers.
And while Lombardo noted that observers had "shoved" cameras in front of officers, attorneys said they were recording police actions, which is legal.
Piro, who was arrested, says Lombardo labeled the legal observers as agitators as "justification for unjust actions." He described the language as "dehumanizing," pitting two sides in a "us versus them."
The incident prompted Gov. Steve Sisolak, who previously touted the use of legal observers at the protest, and Attorney General Aaron Ford to call for an investigation.
Lombardo said the department was investigating 17 complaints made from the more than 80 protests since late May when protesters have taken the streets calling for police reform after a black man was killed by white Minnesota police. Investigators haven't found an officer who violated protocol, though the probes take at least 30 days, Lombardo said.
Rasmussen said they want an independent review, alleging that when Metro investigates itself, the process ends in a "lack of transparency" and with a "curated narrative."
Attorney and legal observer Belinda Harris on Sunday posted on Facebook that North Las Vegas Police, who were assisting Metro, threw her to the ground and were "rough" despite her telling them she was a cancer survivor. That department and Metro on Wednesday released footage that appeared to contradict her allegations.
But Rasmussen, who is representing Harris, said her client stands by her claim, noting that the footage doesn't show how they aggressively grabbed her from behind without warning.
Figler described police's dispersal-related charges as a very powerful tool to chill speech. Despite the arrests of observers, there was an uptick of volunteers to monitor upcoming protests, the attorneys said, adding that they are trained, and it would be helpful if they could meet with Metro to explain their function.
For now, the attorneys are just seeking to fight the "baseless" misdemeanor charges of obstructing traffic on the street, which they were told were being handled in traffic court. They expressed empathy for the job of police officers and Metro's improvements over the past several years, noting that an open dialogue might improve the relationships. Local leaders from several advocate organizations were meeting with the department Thursday, which they described as a good start.
"Las Vegas is not a war zone nor does it need to be," Figler said. "That needs to stop now."
https://lasvegassun.com/news/2020/jun/18/legal-observers-las-vegas-protest-challenge-metro/